Say Buh-Bye Hillary!
The first black man in American history clinches Democrat delegate totals.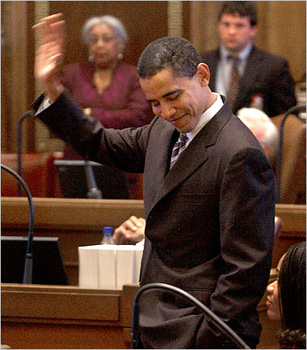 From Breitbart.com
Operaton Chaos was sure fun while it lasted! Good job, Rush.
To those looking to downplay Rush Limbaugh's (and by extension, talk radio's) role in the presidential primary season, yesterday's results from Puerto Rico have brought bad news indeed.


Because English- language talk radio doesn't have a significant foothold in the island territory, exit poll results give us a good comparison to states where Limbaugh's Operation Chaos was heavily promoted.

The difference between an Op Chaos state and Puerto Rico is noteworthy, according to Al Giordano of The Field:



Here are the

CNN exit poll results

, which suggest that the margin could be as high as 70 percent to 30 percent, has 73 percent of the voters reporting that they have family in New York, and - here's the most interesting stat - only five percent of Clinton voters wouldn't be satisfied with a Clinton nomination.

That's a much lower number than has occurred in other states that voted once Rush Limbaugh began his "Operation Chaos" urging Republican-supporting voters to prank the Democratic primaries by voting for Clinton. Spanish-speaking Puerto Rico, obviously, is a place where Limbaugh has no significant listenership, and this provides us a yardstick with which to measure Limbaugh's actual impact on English-speaking state primaries.

In Kentucky for example, on May 20, a full 19 percent of Clinton's voters said they would not be satisfied with her nomination. On May 13, an equal number - 19 percent - of her own voters in West Virginia said they wouldn't be satisfied with her nomination. But only five percent in Puerto Rico were in that category.

This suggests that 14 percent of Clinton's vote in recent mainland state primaries consisted of the Limbaugh "chaos" voters.