YET ANOTHER BLOOD SLANDER OF AMERICAN MILITARY FIGHTERS!
Armchair General Nancy Pelosi, who is too stupid to be allowed out without minders said Thursday that Iran is responsible for the success of the surge. You read it right. Iran. Not our troops. Not General Petraeus. The murderous regime of Iran.
Appalling. Irresponsible. Dare I say, traitorous?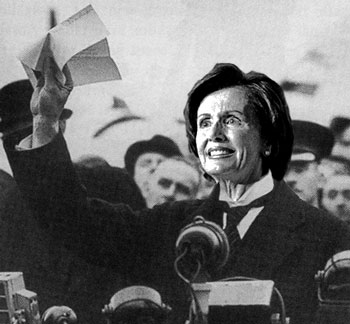 Nancy Pelosi proudly declares Iran has agreed to a 25% reduction
in the terror-bomb murdering of our troops. She says she hopes that
further "goodwill" from Iran might result in 33% reductions in the "near furture." ""With further careful diplomacy," she says, "it could be that only 15-25 American troops are being murdered by our Iranian friends per month."
Ace of Spades has proper invective, sufficient outrage, and excellent cheap shots here.