UPDATE!
White-on-white hate talk ..it's not pretty.
Warming the cockles of my war-mongering, Cheney-loving, Halliburton supporting, fascist heart tonight ....watching the Democrat's Alpha Dog (no, not Hillary, the other power crazed Clinton) going barking mad on CNN.
Yup.
The Clinton News Network reporter gets ankled by Billy Jeff Clinton's famous foot-stomping temper tantrums.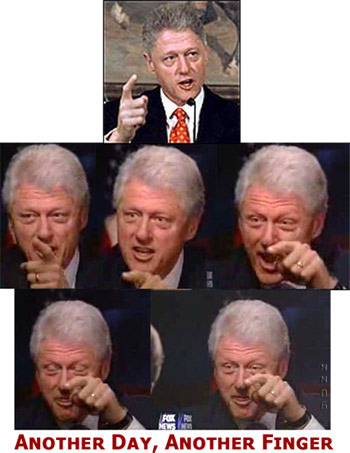 (FreeRepublic.com)
Bill Clinton became visibly upset Wednesday over comments by a prominent South Carolina Democrat that compared the former president's actions on the trail to those of infamous Republican strategist Lee Atwater.
In an interview with CNN's Jessica Yellin, Dick Harpootlian, a former chairman of the South Carolina Democratic Party and a supporter of Barack Obama, said some of Bill Clinton's recent remarks on the campaign trail were appeals based on race and gender. He said the comments were meant to "suppresses the vote, demoralize voters, and distort the record," and said they were "reminiscent of Lee Atwater."
Clinton sharply disputed the charge, and lashed out at Yellin for raising the question.
"You live for this. This hurts the people of South Carolina," he said. "Because the people of South Carolina come to these meetings and ask questions about what they care about. And what they care about is not what's going to be in the news coverage tonight, because you don't care about it.
"What you care about is this. And the Obama people know that. So they just spin you up on this and you happily go along.
Damn that Bill Clinton! He stole a page from the Vast Right Wing Conspiracy handbook.
When all else fails --Blame The Media. (Because, of course, they deserve it.)
See, we CAN all get along.