The Obama administration must be losing sleep over the poor jobless numbers report out yesterday. Do they care that so many are without work? I doubt it. Do they care that they'll be thrown out on election day? You bet your ass they do.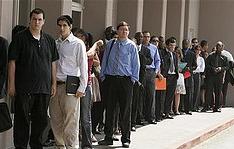 WASHINGTON (AP) -- The number of people applying for unemployment benefits fell slightly last week, a sign the job market isn't getting much better.
Applications ticked down by 1,000 to a seasonally adjusted 404,000, the Labor Department said Thursday.
The four-week average declined for the third straight week to 408,000. That's the lowest average in eight weeks.
Still, applications are higher than they would be in a healthy economy. They need to fall consistently below 375,000 to signal sustainable job growth. They haven't been below that level since February.
The report suggests that layoffs have declined in recent weeks. But other data show hiring hasn't picked up.
Ellen Zentner, senior economist at Nomura Securities, said applications around 400,000 indicate a neutral job market, "one that's neither picking up, nor deteriorating."