You CANNOT make up these headlines, which is why this story won't go away.
Via Drudge Report:
IT MIGHT BE MY WEINER!

'I was a little bit stiff yesterday'...

'This Could Be The End For Him'...

'Have You Ever Taken A Picture Like This Of Yourself?'...

HUMA STAYS QUIET...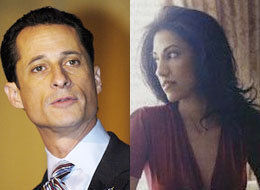 (Anthony Weiner and his wife Huma Abedin, body woman for Hillary Clinton)

Done in by the social network...

Probe could give Weiner more headaches...