The Hill's lead headline this morning blares "
Storm Center Over Pelosi
." And today's Washington Post features a couple of A1 stories, "
Accusations Flying in Interrogation Battle: Pelosi Says CIA Misled Congress on Methods
," and "
Speaker's Comments Raise Detainee Debate to New Level
."

So, how about the nation's "

unofficial newspaper of record

"? Nope, Nancy Pelosi's allegations of CIA lies and deception don't rate the frontpage: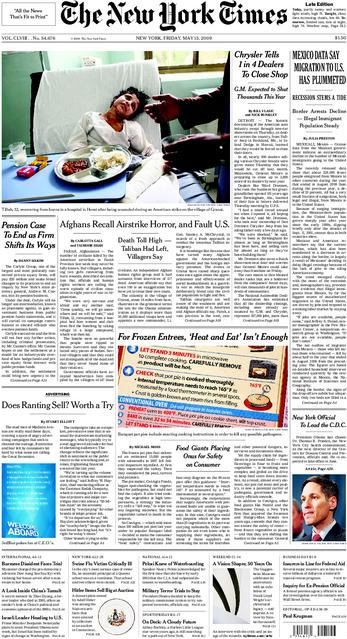 In fact, the Times clearly hopes this story goes away, and fast. They've buried their coverage deep iniside the front section, at page A20, "
Pelosi Says She Knew of Waterboarding by 2003
." And the editorial page makes no mention of Washington's biggest news at the op-ed page.

The Los Angeles Times is no better, relegating
its coverage of Pelosi
to page A15.

In contrast, the Wall Street Journal features a major A3 story, "
Pelosi and CIA Clash Over Contents of Key Briefing
." And today's lead editorial at the Journal hammers the Speaker, "
Pelosi's Self-Torture
."

While we've there's some suggestion of "
yellow journalism
" in the media of late, we might also see the Pelosi scandal as again substantiating
the rise of a new partisan press
.