Uh-oh. The polling is heading south for The Chosen One - again. His approval numbers are falling to mere mortal status.
It seems that even the Obamunists think he's trying to do too much.
WASHINGTON (CNN) -- The ailing economy. Health care. Bank bailouts. Troop deployments. Is President Obama juggling too many balls? A new national survey indicates the answer is yes.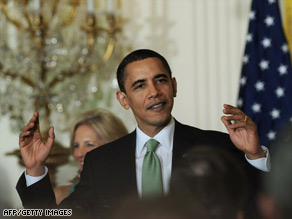 President Obama, according to those polled in a new survey, has been busier than they are comfortable with.
Fifty-five percent of the people questioned in a CNN/Opinion Research Corporation survey released Wednesday say that since he's taken over in the White House, Obama has tried to handle more issues than he should have. Forty-three percent say he hasn't bitten off more than he can chew.
"In his first weeks in office, Barack Obama did not focus exclusively on the economy, but instead announced new policies and proposals on everything from education to health care to Afghanistan and Iraq," says CNN Polling Director Keating Holland. "He gets high marks on most of those issues, but it seems that many Americans are worried that he might lose his focus on economic recovery."
On Tuesday, Obama responded to criticism that he's trying to do too much, saying, "What I say is that the challenges we face are too large to ignore."